#MONDAYCHITCHAT- BOY BYE!
1:32 pm
Hi guys!
It is ChitChat Monday here! Check out other posts under this series
HERE
.
It rained this morning, and rain in the mornings always make me feel more tired, so doing this post was a struggle, But I am trying to be a better person in 2017!
So today, I will be talking about a special type of people I have classified in my head as BOY BYEs!
Yes I call them BoyBye!
This type of BoyBye
If you are that makeup loving girl, you have probably met this type of BOYBYE at one point in your life.
Yes we have met them, we know them, and we don't really like them.
Let's tear them to pieces
Let's just talk about the absurd things they say
1)
YOU WEAR TOO MUCH MAKEUP
You wear too much makeup, we can't see the natural you blahblah.
AND?? AND??? AND SO WHETT THO?? SO WHETT??
Or this one
I'm like
What is it to you though?? Do I have to explain that makeup is something I love, and I find joy doing bomb brows and glitter eyes???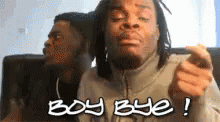 2)
YOU LOOK GOOD WITHOUT MAKEUP
*EYE ROLL*
via GIPHY
Urghhh! Really? My large pores look better without 10 layers of foundation? Or my chapped lips look without 100 coats of lip gloss ??
Of course I look good without makeup on! My boobs look good without a shirt on, but I'm still going to wear a shirt, won't I??
Geddit?!
END OF DISCUSSION!
3)
I LIKE NATURAL MAKEUP
OH you do?? You like natural makeup? Take a cookie!
Why don't you do the natural makeup on your face??
People need to understand that, there are days for glam, and there are days for natural. Besides NATURAL makeup takes just the same amount of stress!
Urgh


4)


MY EX LIKED NATURAL MAKEUP
Oh no you didnt!
Let us break down the difference between Me and your Ex
SO THAT'S THAT.
KEEP KWAYET!
5)
YOU WEAR MAKEUP FOR GUYS
You mean I buy all these makeup, own a 110 brushes for someone who can tell the difference between a blending brush and crease brush?? own 163 lipsticks for someone who thinks it is RIRI RUBY WOO instead of RIRIWOO?? own 179 eyeshadows for someone who can't tell a transition color from a brow bone highlight?? Ermm...
Here is a Public Service Announcement GEDDIT?!
BOY BYE!
6)
MAKEUP DECEIVES US
Ermmm because God created me with this type of liner
or I came down from heaven with glitter on my eyelids like this
If you think I was made like this, it's on you not on me lol!
Common sense should tell you that
7)
YOU BUY TOO MUCH MAKEUP
Wait what??
How is buying a matte purple lipstick and a creme purple lipstick, and a satin purple lipstick, and a semi matte purple lipstick, and a glossy purple lipstick, buying too much HOW??
Him: Don't you already have a nude lipstick? Why are you buying another one?
Me: Because that one is Anastasia Beverly Hills, this one is TooFaced
I am just tired of men telling us what to do!!
Let us do what we want to do, nobody has to live up to YOUR standards!
BOY WHAT??
HOPE YOU GUYS ENJOYED THIS CHITCHAT!
Do you know guys like this?? Let me know other "craptalk" you have heard from them!
please let me know in the comment box below! Let's talk!
If you want to see chatty posts like this EVERY Monday please let me know!!!
Don't forget to keep up with me on Social media
Snapchat: themakeuptales
Instagram: themakeuptales
Twitter: themakeuptales
till later guys